The BIG Big Loop Bike Ride Details
Please review the following information before arriving at the trailhead.

IMPORTANT NOTES ON THE RIDE
Dear fellow bikers, please remember that this is a ride, not a race.
The Carrollton GreenBelt is a multi use path and when pedestrians and bikers cross paths, bikes must yield to foot traffic.
Please obey all traffic signs and light signals. You will cross several streets, some of them have push-button activated crossing lights. Please use them and only cross on signal.
The trail is never closed for events and you will ride in normal weekend traffic, passing families with small children, runners who will not hear you coming, people walking their dogs. Please remain cautious at all time! Please control your speed, especially going around corners. Signal when passing.
Bring water, snacks, cell phone and sunscreen.
REGISTRATION AND PACKET PICKUP
Early t-shirt and race number pickup is set for Friday, April 14, between 11am and 1pm at the Carrollton Parks and Recreation office (118 S White Street in Carrollton).
The registration table opens at 8:15 am on Saturday (April 15). Registration forms will be available, however the ride "goodies" are available while supplies last, and shirt sizes are reserved as first book, first serve basis. Online registration open until 5pm Friday.
Big thank you goes to the BIG EVENT sponsors: Morgan Oil, the Fleck Family and Colorado Premium. The riders will receive the t-shirt, riding number, and a frisbee.
Upon presenting the tear-off ticket after finishing the ride, the adult runners will receive a BIG EVENT / Printers Ale glass, and a beer, courtesy of Printers Ale Brewing Company. Kids will present their tear-off to the AGW Ice-Cream truck for … an ice-cream cone!
We did our best to structure our shirt sizing around past events, but the sizes and "goodies" will be available while supplies last.
PARKING
The trailhead parking will be reserved for food trucks, bicycle parking, handicap parking, and event vehicles. All guests must follow volunteers' directions and park in the field. The access to the parking lot will be restricted for the duration of the ribbon cutting and 5K/Bike Ride send off – approximately between 9 and 10am. Please arrive before 8:45am if you would like to park in the trailhead area.
We would like to encourage all the event participants to walk, bike or carpool to the event. Parking is limited and every place counts!
Alternative parking lots are available within 20 minute walk from Rome Street (Disc Golf Entrance), and Lakeshore Park (pool building, Lumpkin Drive, Lakeshore Trailhead docks, and N Lakeshore Drive), or within 20 bike ride from Castle Playground and East Carrollton Park. (MAP)
Bicycle parking will be available onsite. Please bring a locking device and secure your bike. Please do not leave your bike unattended in the field, and do not leave it on the trail.
RIDE ROUTE
You are going CCW (counter clock wise)!
Water: your first water fountain at Laura's Park at Hays Mill, which is about 8 miles away. The next water station is another six miles ahead, behind the restrooms at the East Carrollton Park soccer fields, next one is in front of the Lakeshore Trailhead restrooms, another two miles away.
Stay on the main trail! There are a few spurs, but you should be able to identify the main route by checking signs.
Seasoned bikers can expect to ride the loop under 1 hour and 30 minutes. A lot depends on the traffic both on the trail, and on the street crossings. Moderate riding with stops for water and snacks takes about 2-3 hours. Expect 3 or more hours if you ride with children.
We have hills, y'all! While the trail is ADA compliant, there are several where you need to gain the elevation. Take it easy, get in the right gear, push your bike if needed.
Come see us at the registration table after you come back to Hobbs!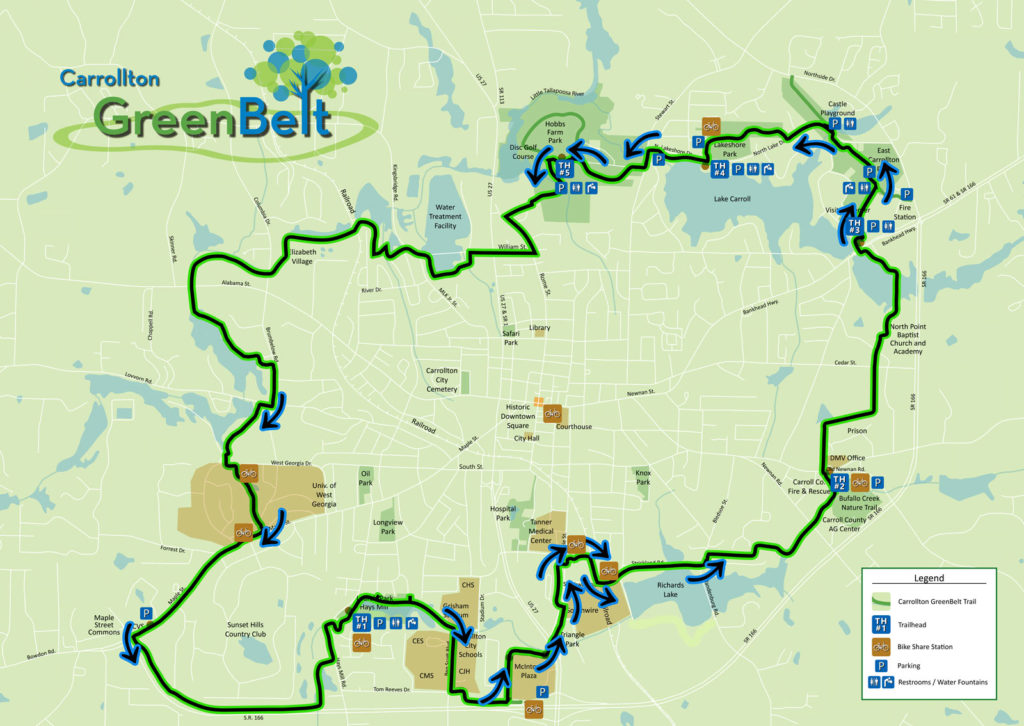 RIDE REWARDS:
Adam Alvord at West Georgia Cycling will be available before the ride to look over and do minor tune-up to your bikes.
Adam also provided the cool gear we will raffle off between the riders who complete the loop! You have until 12;15 pm to register for the raffle at the registration table!
The ride goodies are all about safety! Everyone gets a GreenBelt brochure with a map, and we have 30 Bicyclist Pocket Guides courtesy of Georgia Bikes. We have two awesome Giro helmets, two torch/bike pumps that are tiny and also highly visible in low light, we have a read bike light and a phone mount from Adam – you need to check out his bike shop, West Georgia Cycling, on 415B Bradley Street. We also have a couple of bike bells, locks and tire repair kits.
If you think you will need more than two and a half hours to complete the ride, you are more than welcome to start early, please come see Marty at the registraion table before you leave, so we can give you a map! The Big Loop Send off is at 9:45am.
Save
Save
Save
Save